***** PICTURE WARNING******* The pictures at the end of this entry may be hard to view. They are painful and graphic.

I am back. I am not sure just what I accomplished by staying away from the computer. I did get some stuff done but not near enough. I just have to face it, I cannot manage my time properly! LOL. I have been shampooing carpet, putting a new roof on the barn (not done), washing clothes, scrubbing shower walls, ect ect. I do not seem to get ahead so I am back. I have a list in my notebook that is 6 pages long of things I want to get done and need to get done. I will do them, but I will not deprive myself of my pleasure again.
Everyone is doing good. Brook starts intense training in 1 week for her black belt test. This will be 3 months of working hard. Aug will be a month of special weapons training. She will be attending Tae Kwon Do classes 4 days a week. It is going to be double hard for her as school starts on Aug 2nd. She is going into 4th grade this year.On her school supply list it had a LARGE book bag listed. That tells me lots of homework!
The 6 babies chicks are thriving. They are still living in my living room but now I take the cage out in the daytime so they can get used to the outside temps. They still need to be protected so I cannot just turn them loose. I also cannot just put them in the pen. They can get out of it. I have a hen setting a nest again. These game hens think that is what they are supposed to do. She has a small nest because I have been raiding it every few days. She made it easy for me to find. It is in the doghouse. Poor Pup does not have a place to sleep now.
Spirit, the horse I was walking, is doing good. I am walking her again after 1 week off. Her owner decided she was depressed and needed to get out. LOL It gives me some pocket money.
Brook has been riding Precious a lot lately. I need to punch some holes so I can adjust my stirrups for her. Her legs are too long for her buddy stipups now. She needs her own saddle now. I think I just got an idea of what to get her for Christmas.
This weekend is going to be a full weekend. Saturday we are taking Crystal and Precious over to be bred. We are sure Crystal will breed but as for Precious.... Due to what happened last time, click here, and here This stud we are taking them to has a reputation for being gentle. They will never be in a pasture with him alone. They will be on a lead rope and so will he. They will only be 3 miles from home so I will be going there everyday. I will be feeding them while they are there. Cheaper! Mare care is $5 a day per horse.
That's it for now. I need to do something here. I will be staying and nothing is going to make me leave again!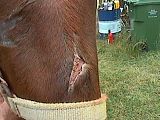 Her neck where she was impaled on fence post


The other side of her neck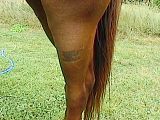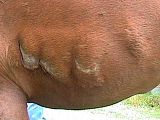 Broken ribs, She also has 2 more on the other side near the top of her back.